In the snow capped hillsides of southern Missouri, Debbie Njai, founder of Black People Who Hike, found a balm for her seasonal depression.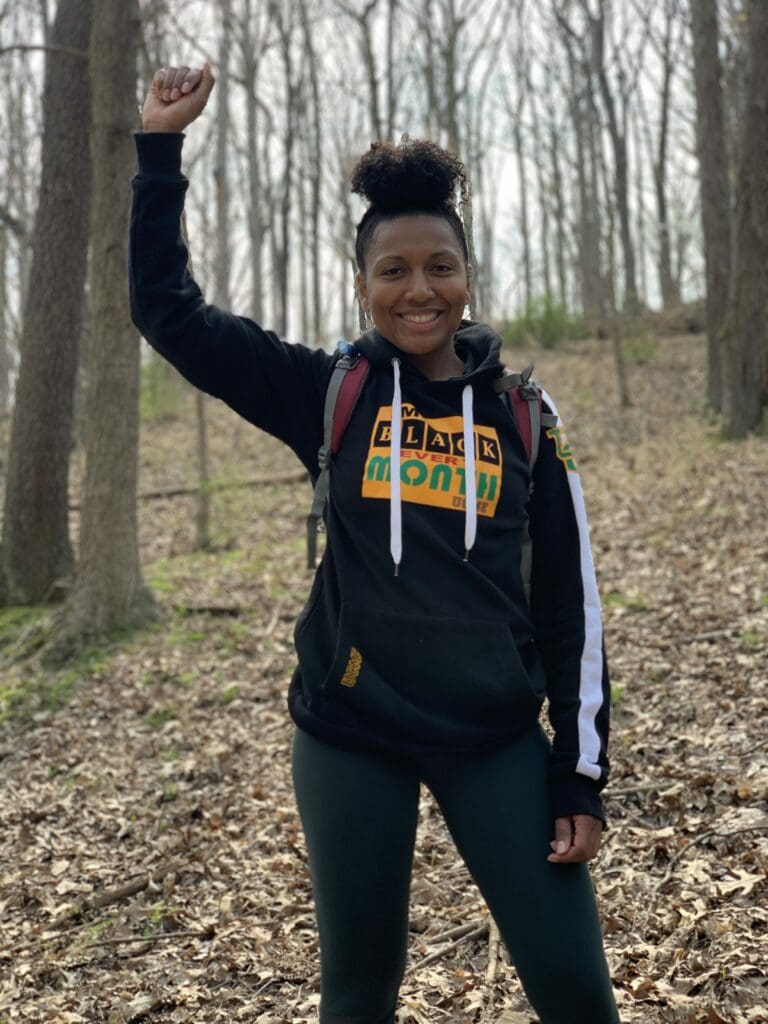 "The winters out here are horrible. It's cold," she admitted. "We bundled up and wore gloves, but we hiked all through the season. Down to temperatures in the high 20's. And we were thriving."
The founder says that the group of largely novice hikers, founded in September of 2019, often shares her own feelings of weariness through the long Missouri winters, as feelings of melancholy envelope the community within its cool, grey weight. They hit the trail every Sunday for a breath of fresh air and rush of feel-good endorphins. 
But Njai hasn't built her community alone.  Along her journey, the hiker has leveraged Ticket Falcon as a tool for the stress-free event planning, RSVPs and ticket purchases that connect her to the growing community. 
Ticket Falcon, a Black owned, minority certified event management and ticketing platform offers users instant payouts, and has been a proud partner in Njai's journey towards wellness since her launch in 2019. 
Ashton and Ryan Clark, identical twins who identify as "serial entrepreneurs," launched the platform in July 2019. The founders say many of the event organizers using their platform are small business owners in the wellness industry.  Ticket Falcon champions the cause.
"Maintaining wellness is critical to our health," Ashton and Ryan explain. "At Ticket Falcon, we are proud to provide a platform that unites event organizers and attendees to create memorable experiences. During COVID-19, wellness events can still occur outside with social distancing in place. We are proud to help enable this."
The howling call of the wild is not tuned to Njai's ears alone. During the national lock-in, time spent outdoors could be more important than ever.  Experts at Harvard Medical School leisure time spent in nature to improved health outcomes. 
The National Alliance on Mental Illness (NAMI), further reports that wafting scents of jasmine, lilac and pine befit forests with an anti-anxiety effect.
Njai likens the rugged, leaf dusted trails of the forest preserve to trips to the spa. In fact, she finds, the total sensory experience is arguably more dramatic.  
"You can hear the birds chirping, the water falling, the wind whistling through the trees," says Njai. "You can smell the water and pine — you can breathe. It's a form of meditation, consciously and unconsciously. You can achieve a sense of serenity within 30 minutes." 
Experts add improved focus to the growing lists of health benefits, including strengthened immune response, offered by the great outdoors. 
"Every hike I go on, I walk away with gems," she said. "I'll get my phone out and start taking notes. Black People Who Hike has not only placed me in the best space of my life, but the ideas that I'm birthing and putting into the organization are coming to me through my connection to nature."
Still, the hiker recalls, getting her loved ones out on the trail was no easy feat. While she was eager to share its benefits, she was met with a wall of prejudice about who the great outdoors was truly for.
Indeed, national parks were not excluded from the brute legacy of segregation, regardless of the relatively-progressive leaning park founders. 
Njai finds the ghosts of Jim Crow continue to haunt American trails. She places the low representation of Black people in national parks, a lowly 7 percent, within this historical context. 
"When you think about hiking, camping and fishing, these are things that Black people have always done. But we were forced out of these spaces," she explains. "Black people were not even allowed into national parks until 1945, and then it took years for the parks to enforce desegregation. So, as a Black person, we have to ask: do you even feel safe going into these parks? When I see white families hiking with their 3 year olds, I think 'I would love to see the same thing with Black folks,' but this is something white people have passed down generationally — Black parents were blocked from that. The tradition has to start here, with us."
Realities like these are precisely why supporting Black owned businesses is so important to the Ticket Falcon mission, Ashton and Ryan say. 
"Partnering with Black owned organizations is a priority at Ticket Falcon," the twin founders explain. "We know how difficult it is to grow a business, especially as a Black owned business. It is important that we support each other and work together as much as we can. When one of the organizers using our platform is successful, Ticket Falcon is successful. Other communities support their businesses all the time. There is no reason why Black owned businesses cannot support each other just as much."
Today, Njai says, Black People Who Hike continues to grow.
"One thing I did was document. Everything. I took so many pictures and videos of us on the trails, it started to annoy people," the hiker laughs. "But I think that's what really got people to gravitate towards what we were doing. We've created this safe space for like-minded people to come out, and we're overcoming something together. I just wanted to capture Black joy."
And, Njai explains, Ticket Falcon soars above each outing.
"I tell everyone: I use Ticket Falcon for all my events," Njai said. "I just don't use anything else."