Virtual events may not be the same as in-person events but they do offer many benefits.
Hosting virtual events offer a certain degree of flexibility and low barrier to entry. Virtual events are very practical with limited timelines and budget.
Sold yet? Don't worry, there's more.
Organizing virtual events are crucial for managing long-distance teams, or simply doing business during challenging times – the current pandemic being a prime example.
Moreover, virtual events are convenient for people with physical disabilities or busy schedules, and they can be more cost-effective for your attendees.
Similarly, hybrid events are in-person events with a virtual component, which provide maximum flexibility for event organizers who can host both physical and virtual attendees.
But let's not put the cart before the horse. Let's start by answering…
What Is a Virtual Event?
A virtual event is any kind of event held in a virtual environment. Typically, that means it's held online rather in-person.
These kinds of events are usually held via a virtual meeting platform, which offers a set of tools to organize, plan and carry out online events.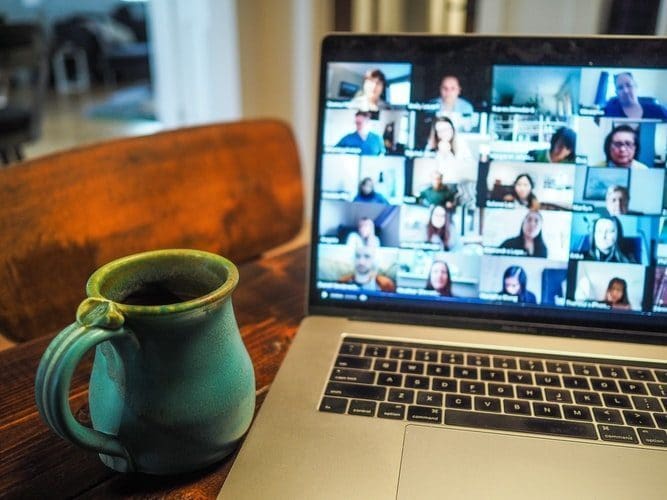 Types of Virtual Events
Different types of events can be hosted in the virtual environment. Even if there's no strict framework for categorizing online events, we've identified a handful of examples.
Here are some types of events you can host without the need of a physical space:
Summits and conferences
Webinars and classes
Meetups and social events
Meetings and brainstorms
Job fairs and award shows
Fundraisers and galas
The possibilities are only limited by your imagination, which is why it's easy to answer…
Why Should You Host a Virtual Event?
COVID-19 has greatly reduced in-person events. As a result, virtual events provide several benefits to event organizers and attendees.
Here are just some of the obvious ones:
Accessibility – event organizers and attendees can easily access the event from various types of devices (phones, tablets, PC, laptop)
Cost-efficiency – virtual events reduce costs for event organizers who need to stay on or under budget
Flexibility – there are so many options to choose from when hosting your virtual event and they take less time to plan than in-person events
Repurposing – the recorded content can be monetized and used for social media purposes
Analytics – you can measure engagement and attendance via attendee reports to optimize future event
Planning Your Virtual Event Is the Key to Success
Organizing virtual events requires planning, but perhaps not as much as organizing an in-person event.
That does not mean you should limit your planning, however.
Instead, you should focus your efforts on the purpose of the event, the audience and the platform you plan on using.
Make sure you identify the following key factors:
Purpose – Clearly define the purpose of your virtual event
Audience analysis – Identify who you want to target and which content works best
Event format – Determine the most appropriate type of virtual event to host
Time and date – Select a date and time that works best for your audience
Tip: Once you've figured out the above, you can start thinking about other essentials, such as virtual event technology and virtual event marketing.
1. Select the Right Virtual Meeting Platform
The virtual meeting platform you choose can dictate the success of your online event. That's why you should consider the number of attendees, speakers and what you would like to achieve during your event.
Here's a selection of popular virtual event platforms to choose from:
Platforms such as Microsoft Teams, Zoom and WebEx are great for private events with larger audiences where interaction is key.
On the other hand, YouTube Live, Facebook Live, Vimeo Livestream or LinkedIn Live are a great alternative for public events.
But our list isn't exhaustive.
Make sure you choose a platform based on the event you're hosting. For example, a webinar will require ticketing facilities while a business meeting won't.
PS: Remember Analytics!
Event apps can help you incorporate different surveys, Q&As and polls — without making them an obvious part of the event.
They're also convenient for sending push notifications, event itineraries or any other important information directly to your attendees.
Saves you the hassle of emails!
It's also important to encourage your attendees to tweet, post, and tag their friends on social media during the virtual event.
Why? Because it's free marketing for you and helps spread the word about your event.
Finally, event apps will also help you collect useful feedback from your attendees, which is important to improve your next event.
2. Get the Right Event Equipment
You need to find the right equipment for your online event. Fortunately, smartphones or tablets can get the job done in a pinch.
However, true professionals will need the following:
Camera
WiFi (the faster the better)
Microphone
Lighting
Mixer
Encoder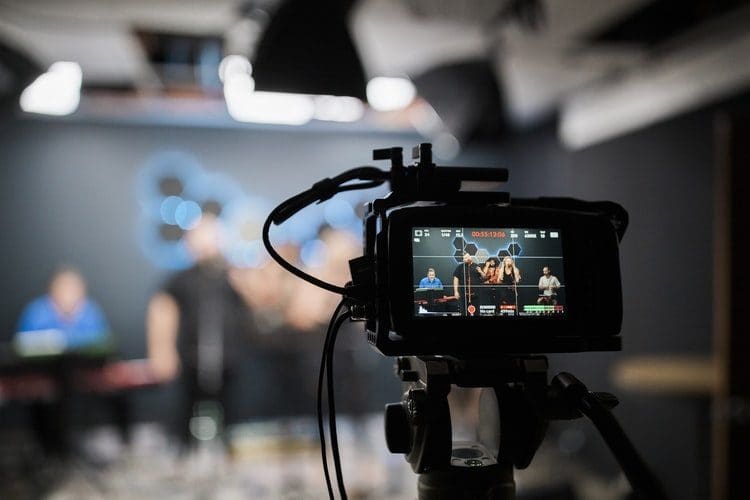 3. Bring Top-Notch Content
The content of your event will be the biggest selling point, and will determine how many people sign up, as well as how engaged they'll be during the event.
In other words, this one's really important.
Make sure you use graphics, videos, presentations and other tactics to grab and hold the attention of your audience.
Tip: Have a look at these engaging virtual event ideas if you're not sure where to start or what to incorporate.
4. Engage Your Audience
Content is king, but sometimes your attendees will need a gentle nudge to get involved in the festivities and contribute to the success of your event.
After all, virtual events can often seem more awkward than in-person events.
Don't rely on organic engagement, because you never know how your audience will feel on the day of. Instead, have a few tricks planned to get the party started.
Here are some ideas to encourage audience engagement:
Let the audience know that there will be live polls
Use break rooms to create smaller groups for discussion and networking
Include Q&A sessions to get live feedback and start discussions
That should be enough to break the ice and get people to share their opinions and avoid any awkward moments of silence.
5. Promote the Virtual Event
You'll need to create a marketing strategy to help you reach as many people as possible. That said, make sure you only promote your event to your target audience.
This will ensure you don't waste your valuable marketing budget.
Promoting a virtual event isn't that much different than promoting an in-person event. You'll use most of the same channels, apart from physical flyers and posters.
Here are some ways you can promote your virtual event:
Send emails with an RSVP link and calendar invite
Post on relevant social media platforms in advance
Send push notifications via an event app
Lastly, make sure to promote your virtual event on the platform you plan to broadcast from.
6. Measure Your Success
All that's left now is to measure the success of your virtual event. Do this based on the original outcomes you had in mind when you first decided to host it.
The same tools you used to organize and host your virtual event can also give you valuable insight into how successful your event was with your audience.
Here are some questions you can ask to measure your success:
Did you meet your attendance goals? Use registration data, attendance data, and app downloads
Was the audience engagement level satisfactory? Analyze comments, questions, poll and survey results to see the engagement levels
Should anything be changed for future events? Identify any weak points that could be improved next time
Your attendees will most likely be happy to share their experience with you. Their feedback is important to improving and enhancing your future events.
Final Thoughts
Virtual events are not and will never be the same as in-person events. But given the current situation, more people are becoming aware of their potential and value during these times.
Don't let the lack of a physical space hold you back.
In fact, platforms like Ticket Falcon (that's us!) are the perfect place to start when you want to host a virtual, in-person or hybrid event.