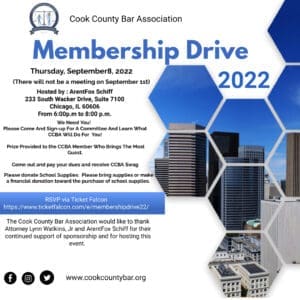 Thursday, September8, 2022 (There will not be a meeting on September 1st)
Hosted by : ArentFox Schiff
From 6:00p.m to 8:00 p.m.
We Need You!
Please Come And Sign-up For A Committee And Learn What CCBA Will Do For You!
Prize Provided to the CCBA Member Who Brings The Most Guest.
Come out and pay your dues and receive CCBA Swag.
Please donate School Supplies: Please bring supplies or make
a financial donation toward the purchase of school supplies.
The Cook County Bar Association would like to thank Attorney Lynn Watkins, Jr and ArentFox Schiff for their continued support of sponsorship and for hosting this event. 
Location
ArentFox Schiff
233 S Wacker Dr
7100
Chicago, Illinois 60606, United States (US)
Date and Time
Thu, Sep 8, 2022, 6:00 pm - 8:00 pm CT