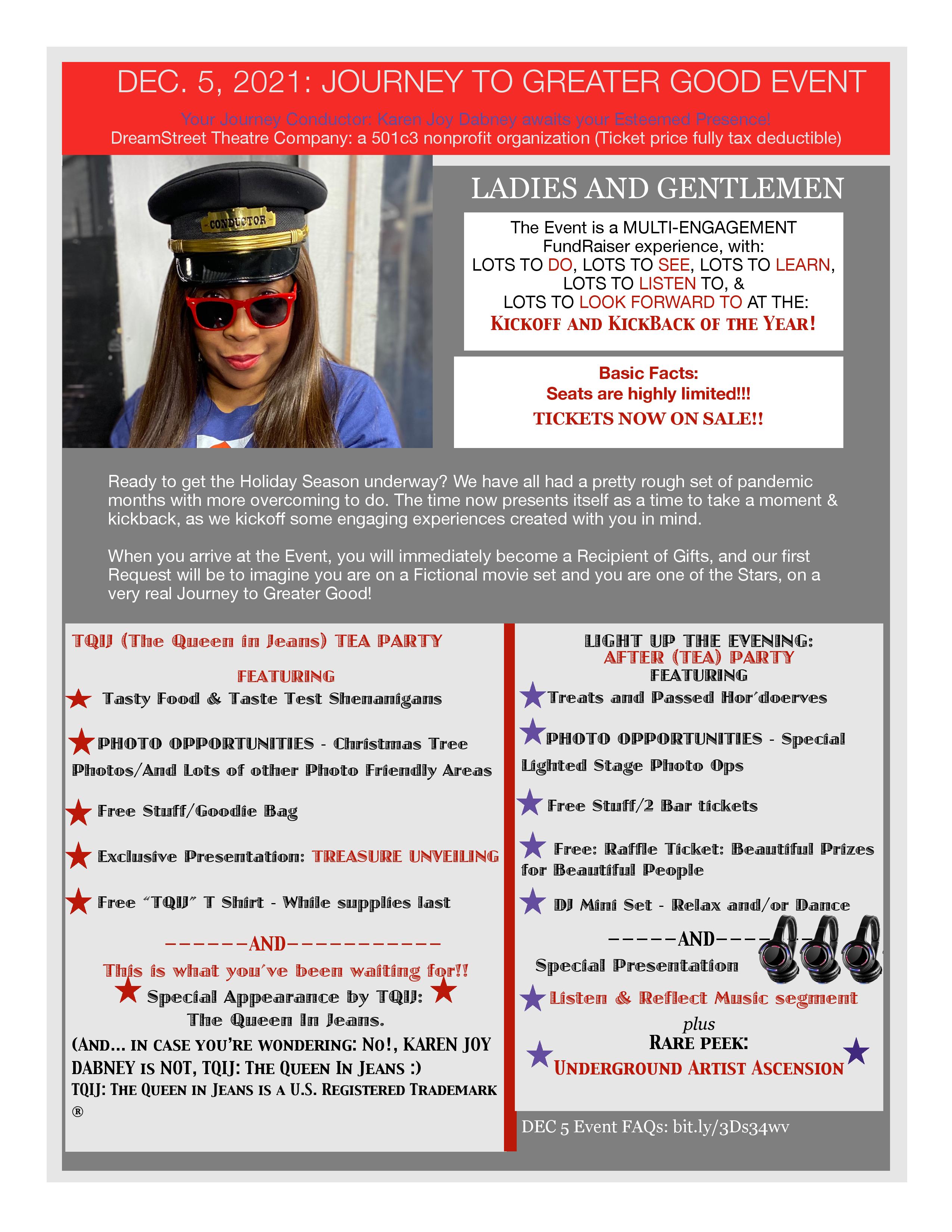 The Event is a MULTI-ENGAGEMENT Fundraiser experience, with: Lots to Do, Lots to See, Lots to Learn, Lots to Listen to, and lots to Look forward to, at the Kickoff and KickBack of the Year!
Frequently Asked Questions:
DEC 5TH Journey to Greater Good EVENT FAQS:
GET READY! GET SET!
Q: What kind of event is the Journey to Greater Good Event, on Dec. 5th?
This Event will be a Fantastic Fundraising Journey for the Evening with your Conductor Karen Joy Dabney. The vehicle, "a Fictional Movie Set… Train Ride" full of so much to See, Do, Learn, and Look forward to. Take a quick look at the Event synopsis that promises to be memorable & meaningful.
When you arrive at the Event, you will immediately become a Recipient of Gifts. Afterward, we will Request you to begin your journey within the Stardom Galaxy where you will review your Event agenda, moving through our Fictionalized movie set where you are one of the Stars, on a very real Journey to Greater Good!
We put the Fun in Fundraiser, and ask you to join DreamStreet Theatre Company, in what promises to be an event not to be missed!
Q: What is the Attire for the Event?
Dress Code suggestions: Wear your Fineries and Shiniest: (Translation: Wear your coolest feel-in-love-with-yourself clothing), then get ready to: Have Plenty of Photo Ops because seriously, we all love a good outfit when we see one!
Q: Can children attend the Dec 5th Event?
Unfortunately the Dec 5th Event is for Adults over the age of 21. Our regular programs serve all ages, so stay in the loop.
Q: The Event is separated into two segments. Should I attend both event segments or is one enough?
Each Event segment is quite different from the other, but blends together as two parts with overlapping intentions. It's ideal to get your ticket to cover both events because of the highly limited guest capacity. You certainly may choose only one event segment, but if you change your mind later, tickets will likely be sold out.
Q: Why is the event broken up into two segments?
Although guest seating capacity is limited, the event space covers a HUGE area and we are using every distinguished area to provide Many Options in Entertainment, Good vibes, and Good opportunities for our Journey to Greater Good. Two event segments allow us to provide personal service to our guests with separate themes.
Otherwise this Journey to Greater Good, (like all great Journeys) typically have more than one leg/segment.
Q: Where is the Event venue?
The event is located in Chicago, with plenty of free parking. More details will follow.
Q: The Event includes a Tea party and (Treasure Unveiling), plus a Lights, Camera, Action: Listen & Reflect Music Segment (and much more). But Aren't "Tea parties" for Women only?
Traditional Tea parties may seem women-centered, but NOT this One! Also, planned is a special appearance you will not want to miss. A Tea Party theme is the first Event segment's backdrop with Lots of cool social things going on.
Q: Is this some type of overly hyped event that will turn out to be boring? Will I miss anything if I stay at home?
Nope, no hype… we actually caution you… you may become over-stimulated for this event (in a good way)
Q: Each Event segment has Special presentations. Is the Special presentation the same for both Events.
No. Different special presentations will be showcased per each Event segment.
Q: Are there any more details available about DreamStreet (Chicago) and the Dec. 5th event?
Sure, go to DreamStreetTheatre.org.This fundraiser will help to support mentoring programs where Teens get to take part as writers; on stage talent; or behind stage production crew members (more about the televised productions: email us at [email protected]).
SPONSORSHIPS GREATLY APPRECIATED: DM IG @ KJDGLOBAL
image widget