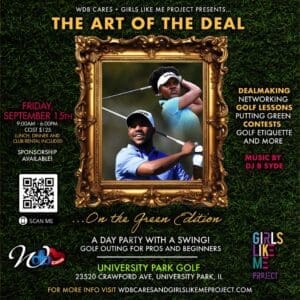 WDB CARES + Girls Like Me Project Presents…
The Art of the Deal
…On the Green Edition 
If you have ever been invited to a golf outing but had to decline because of your lack of experience, this event is for you!  Girls Like Me Project and WDB Cares are excited to partner for an event that brings the professional world of golfing to entrepreneurs.   Learn golf etiquette, practice putting, go out on the green with golf mentors, and network with some of the brightest and best in business!  Throughout the day, we will discuss dealmaking, networking, and how to grow your business on the golf course.   If you are an experienced golfer, we still want you there!  Come network, help fellow entrepreneurs learn the game, and enjoy a beautiful day on the green!
Hosted at: University Park Golf, 23520 Crawford Ave, University Park, IL 60484
Friday, September 15th
9:00 AM-6:00 PM
Registration 8:30 AM
Dealmaking  *  Networking  *  Learning the Game of Golf  *  Putting Green Instruction  * 
Golf Lessons  *  Golf Etiquette  *   And more!
Day party with a Swing!
Music by DJ B Syde 
For pros and beginners! Price includes lunch and dinner 
Individual $125

Twosome $250

Threesome $375

Foursomes $500
Sponsorship opportunities available:
Hole Sponsors $250 – Your logo will be placed on a custom hole sign on the golf course!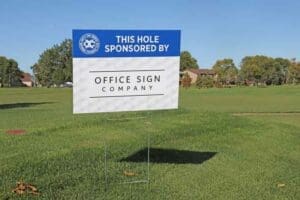 Event Sponsors:
$2500, $5000, $7500, and $10,000
Contact us for a custom sponsorship proposal!
FAQs:
Do I need to buy my own clubs?  If you have your own clubs, please bring them.  If you do not have your own clubs, we will have shared sets available for usage the day of.
What is the attire for the day?  Golf attire is required. For men, stick with short shirts or polos, knee-length shorts or athletic pants, and golf shoes are perfectly acceptable. For women, a polo-style shirt (with or without collar), golf dresses or pants or shorts, and you'll be good.  For your convenience, you can add on a CUSTOM golf polo with your brand added for only $25 at checkout.
What type of lessons are provided?  We will have golf mentors helping throughout the day as well as professional golf instructors to help with putting and golf tips.  But you WILL be playing an actual game of golf. The best way to learn is to get out there on the green.  Don't worry about being embarrassed; this is a day of learning.
How long will we be golfing?  Please be prepared for a full day of networking and golfing.  Registration begins at 8:30 am, followed by an opening conversation on the art of deal-making for beginners, followed by putting green and golf etiquette lessons. For pros, you can head straight to the green for your foursome to begin!
Can I be paired with a friend?  Yes, you can purchase tickets for a friend by purchasing a twosome, threesome, or foursome, or you can list your friend's name when registering.  Please note your friend must purchase their own ticket.  We will do our best with pairing, but the only guarantee is to purchase group tickets.
Will food be provided?  Lunch will be provided for all ticket holders.  There will be a sit-down dinner followed by networking and conversation after golf, roughly 5 pm.
Can I just come for dinner?  Yes, if you don't want to golf, we have a dinner-only option where you can network and join us for dinner.