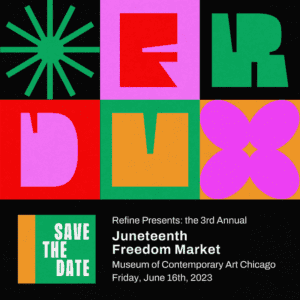 Lift every voice and sing!
Juneteenth marks the day all enslaved people were ensured to be freed. Our joy—our art, music, community, and traditions—continues to endure. Kick off the weekend by joining Refine Collective and the Museum of Contemporary Art Chicago on Fri, June 16 from 5 – 9p for the Third Annual Juneteenth Freedom Market, a bold and joyous celebration of Black creativity & entrepreneurship in Chicago. 
Each ticket includes a welcome sample cocktail from Don Julio Tequila, a wine sampling from Michael Lavelle, and more:
A robust marketplace with over 50 local Black-owned businesses and creators selling a range of goods, including one-of-a-kind clothing and accessories, home goods, beauty 

Performance by the renowned 40+ Double Dutch Club, a Chicago based non-profit organization of women ages 40+ encouraging movement and community through the fun and nostalgia of Double Dutch with the opportunity to learn to jump rope and join in on the fun! More

here

. This performance is sponsored by lululemon

An open art studio experience + complimentary sample wine tastings with Chicago's own

Raspy Rivera

X

Michael Lavelle

in the in the Hues of Home Lounge lounge powered by CB2

A welcome sample cocktail from Don Julio Tequila

Cash bar for guests 

Surprise giveaways & goodie bags!
Sponsors & partners include: Wintrust Community Bank, Don Julio Tequila, lululemon, CB2, Michael Lavelle, and Red Bull.
Participating local businesses include:
Addison J Wright Photography, Arkival Storehouse, Banks Designs, Black Women are Essential, BOBY, Bon Femmes, Braimah Lawal art, Christopher's Attic / Flowers From the Attic, Collection Of Threads, DandyKingzMan, Divine Artworks, Ecodunia, Excelling in Excellence, Goldies NFT art, Ewrks, Hemp Heals Body Shop Inc., House of Chelsea B, Humans Under Experimentation, Hyde & Park Co, innergeticVIBEZ x Sprinkle Dazzle Collective, K-FLEYE, Kayla Customs, Kido, kloie louise, Lavenderpop Greeting Cards, Legacy Apparel, Limba Gal Jewelry, LIT BY LEX, Margaret Blackbird, Mega Doshi, Monday Coffee Co., Moonstone Chandlery®️, MUTHA, Naimah Thomas Art, October Lotus, Raspy Rivera, ReformedSchool, Revolving Collective, Rose Café, Royalty Rugs, Samantha Jo's Balm Yard, Score., Sir Dogwood, Somagems Jewelry, Sprouts N' Agape,, Terrible Tony, The Butterflyvilla, The Goody Vault, The Grounded Family, The Love U Collective, The Vintage Royalty, Tips312, Trading Races Game, Tuan Jones, Zen Soul Apothecary + Solo Noir
This is a 21+ only event, there is limited parking available at the MCA. We highly recommend  street parking or Spot Hero, better yet, leveraging public transportation or ridesharing.