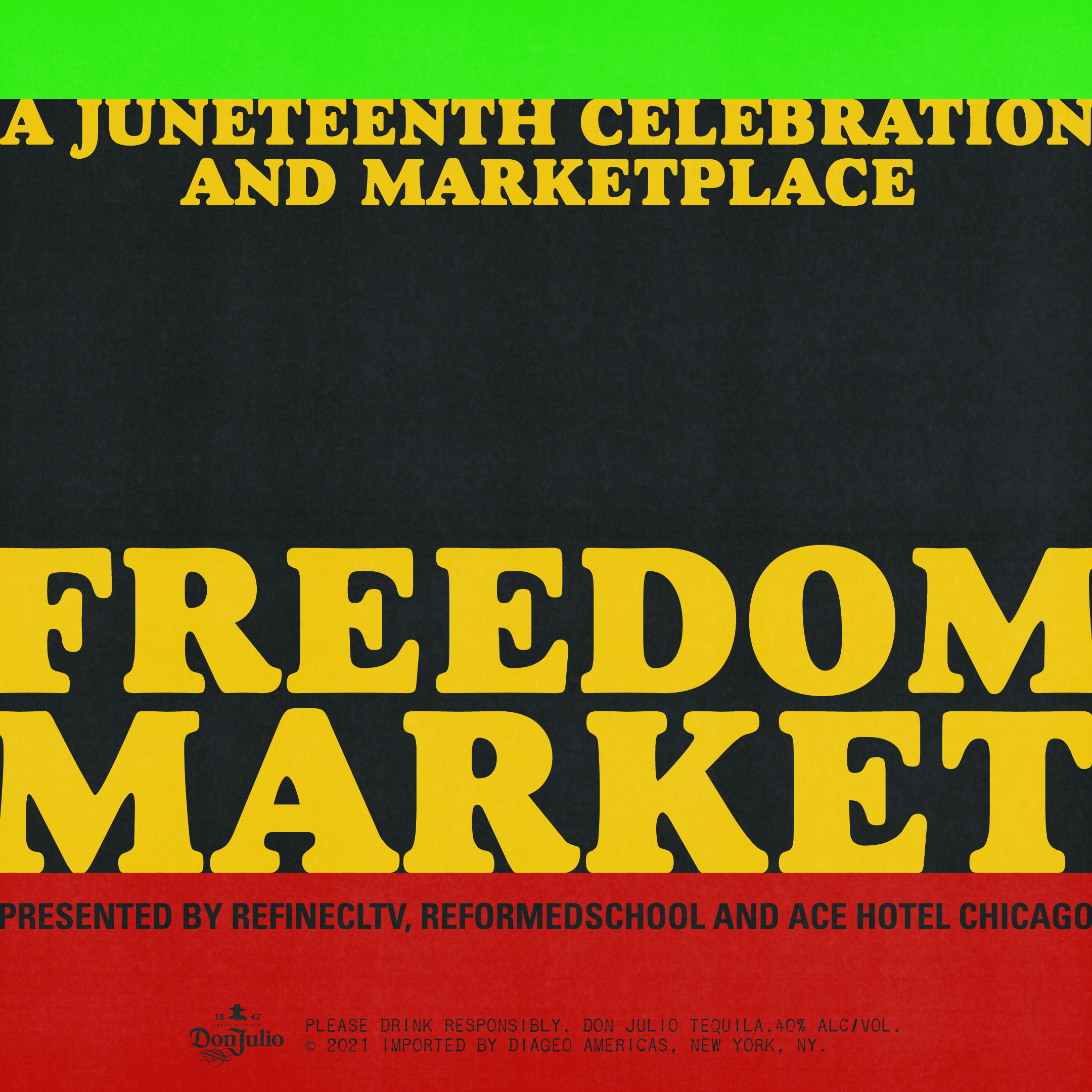 Lift every voice and sing!
Hosted by Refinecltv, ReformedSchool, & Ace Hotel Chicago, Freedom Market celebrates a curated congregation of over a dozen Black-owned Chicago businesses — a booming bazaar with vendors of all kinds: clothes, art, candles, plants, wellness products and more. DJ Slot-A selects all night long, and a welcome cocktail to kick-off the evening — you don't want to miss this celebration ✨
Aside from the fun, a portion of proceeds going to benefit Gray Matter Experience, a non-profit organization focused on unlocking the self-determining power of Black youth, and strengthening their ties to community through real world experience in entrepreneurship.
Check out the list of participating vendors here:
angel bb world, Bbold Clothing, Black Women Are Essential, digitalKENTE® SHOP, Ellis, Eugene Taylor Brand, Good Thoughts Tea Co, Hemp Heals, iickomique Le'Arte, Iinfluential Clothing, Janiece Maddox, Kfleye, Mindfulness Mission, Monday Coffee, Notaplantshop, ReformedSchool, RLC Decor Lifestyle, Semicolon Bookstore, Solo Noir, Trading Races
COVID-19 Guidance: As of now, Ace Hotel Chicago requires mask wearing. When that changes, Ace will permit vaccinated guests to forego masks, but will continue to ask all non-vaccinated guests to wear masks in public spaces except when eating or drinking. Guests should expect to be under a mask mandate until further notice. We thank you for your part in ensuring this event is both safe and successful.
Location
Ace Hotel Chicago Prairie Rooftop
311 N Morgan St
Chicago, Illinois 60607, United States
Date and Time
Fri, Jun 18, 2021, 5:00 pm - 9:00 pm CST

06/18/2021 5:00 pm
06/18/2021 9:00 pm
America/Chicago
Juneteenth Freedom Market: Refinecltv, ReformedSchool, & Ace Hotel Chicago
Ace Hotel Chicago Prairie Rooftop
311 N Morgan St
Chicago, Illinois 60607, United States
<figure class="image ck-widget ck-widget_selected" contenteditable="false"><img src="https://59849.cdn.cke-cs.com/aIJMcdPeCTs5fwEHRYUQ/images/d9986d5af9d90997d4f3b2433f026df34f730963e3e19254.jpg" srcset="https://59849.cdn.cke-cs.com/aIJMcdPeCTs5fwEHRYUQ/images/d9986d5af9d90997d4f3b2433f026df34f730963e3e19254.jpg/w_220 220w, https://59849.cdn.cke-cs.com/aIJMcdPeCTs5fwEHRYUQ/images/d9986d5af9d90997d4f3b2433f026df34f730963e3e19254.jpg/w_440 440w, https://59849.cdn.cke-cs.com/aIJMcdPeCTs5fwEHRYUQ/images/d9986d5af9d90997d4f3b2433f026df34f730963e3e19254.jpg/w_660 660w, https://59849.cdn.cke-cs.com/aIJMcdPeCTs5fwEHRYUQ/images/d9986d5af9d90997d4f3b2433f026df34f730963e3e19254.jpg/w_880 880w, https://59849.cdn.cke-cs.com/aIJMcdPeCTs5fwEHRYUQ/images/d9986d5af9d90997d4f3b2433f026df34f730963e3e19254.jpg/w_1100 1100w, https://59849.cdn.cke-cs.com/aIJMcdPeCTs5fwEHRYUQ/images/d9986d5af9d90997d4f3b2433f026df34f730963e3e19254.jpg/w_1320 1320w, https://59849.cdn.cke-cs.com/aIJMcdPeCTs5fwEHRYUQ/images/d99...<br/><br/> For details, visit the event page: https://www.ticketfalcon.com/e/freedom_market_2021/