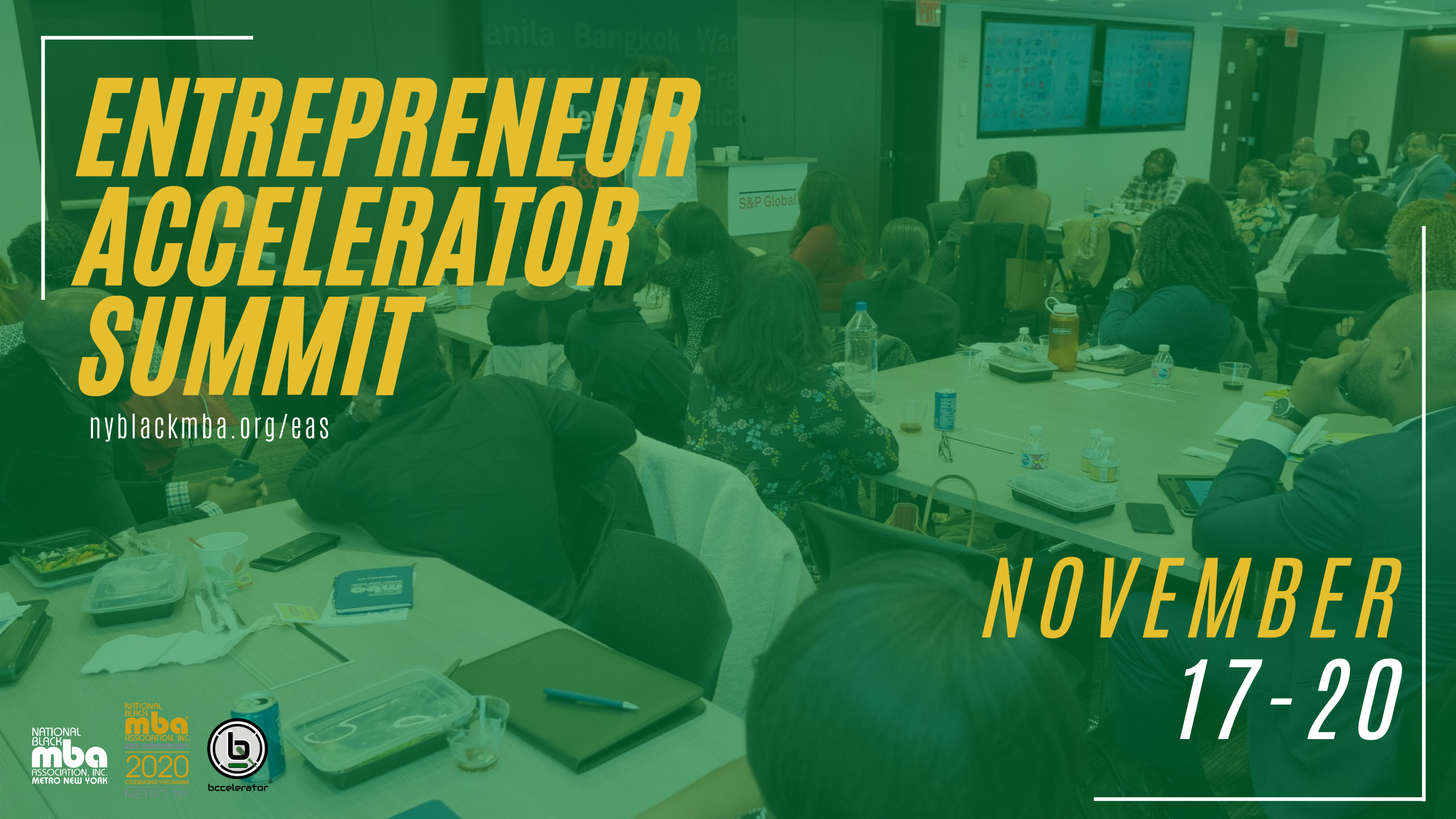 November 17 – 20 "Entrepreneur Accelerator Summit" (EAS) 2020 aims to help minority and women owned businesses as well as aspiring entrepreneurs succeed with a series of workshops to help them accelerate their business goals
NYBLACKMBA Entrepreneur & Economic Development Initiative Group in partnership with bccelerator, Inc.
Overview
Tuesday, November 17 through Thursday November 19 • 10AM – 2PM EST
Three Summit Tracks include: 3 sessions per track/per day
Dreamers: From Ideation to Business Concept. Focuses on designing ones vision, passion, and business experiences into an action plan with resources to give business creation in existing or emerging industries
Launchers: Individuals Ready to Launch Businesses. Providing in deep insights & resources to move into full-time entrepreneurship
Growers: Growth Opportunities & Expanding Business Operations for Small Businesses & Tech Start Ups (business with 2+ years in full time operations) including capital, job creation and economic advantages with supplier diversity, governments contracts, and programs for experienced businesses
All-Access: Access to All Tracks (Dreamers, Launchers, Growers
Thursday, November 19 • 5PM – 8PM EST
New Business Ventures & Virtual Networking
Friday, November 20 • 11AM – 3PM EST
The EAS Small Business Resources Fair gives attendees critical information regarding advancing their business goals including small business service providers, lenders, banks, legal services, financial services, expert coaches & more (All Tracks receive access to the resource fair)
Full Agenda, Workshop, Speakers, Exhibitors, and Special Announcements To Be Announced
Please see key dates:
Full Schedule, Sessions, and Speakers will be announced Monday, September 28
Summit Virtual Platform Access will be emailed Friday, November 13
For more information, please email [email protected] Thank you for registering for this summit and investing in your future.
NYBLACKMBA Entrepreneur & Economic Development Initiative Group in partnership with bccelerator, Inc
www.nyblackmba.org
www.bccelerator.com