Join the 100 Black Men of Chicago for Uptown Saturday Nigh Live, a Virtual Celebration of Youth Event.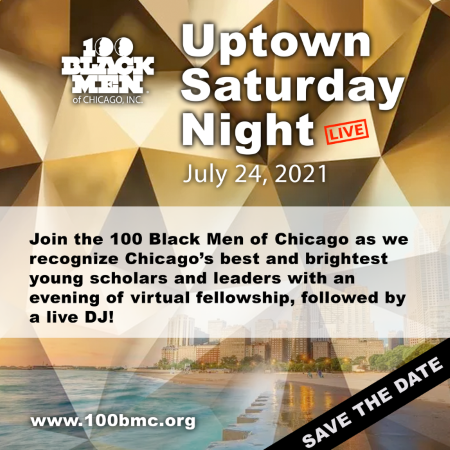 This year we will gather virtually to support and strengthen the 100 Black Men of Chicago's mission, programs, and scholarships. Despite our distance, we promise an engaging and eventful evening.
Our Annual Celebration of Youth Event serves as our largest fundraiser. In order to fulfill our commitments to the youth and the communities we serve, we need you.
We are grateful to be able to reach so many youth and provide a positive impact. We stand by our motto of "What They See, Is What They'll Be." Through your generous donations, we will be able to continue this great work.
For more information about the 100 Black Men of Chicago Virtual Celebration of Youth event, contact Manny Strong and Jourdan Sorrell, Co-Chairs by email at manny.strong[at]100bmc.org or jourdan.sorrell[@]100bmc.org.