Join Author Bahiyah Shabazz in a Virtual Relaunch Book Release Party and conversation.
Women Building Wealth: Habits for Financial Wellness (2nd ed.) was released on November 25, 2020, and now available on Amazon.
Grab your copy of Women Building Wealth (2nd ed.), a notebook, a liquid beverage, and come hang out at the party.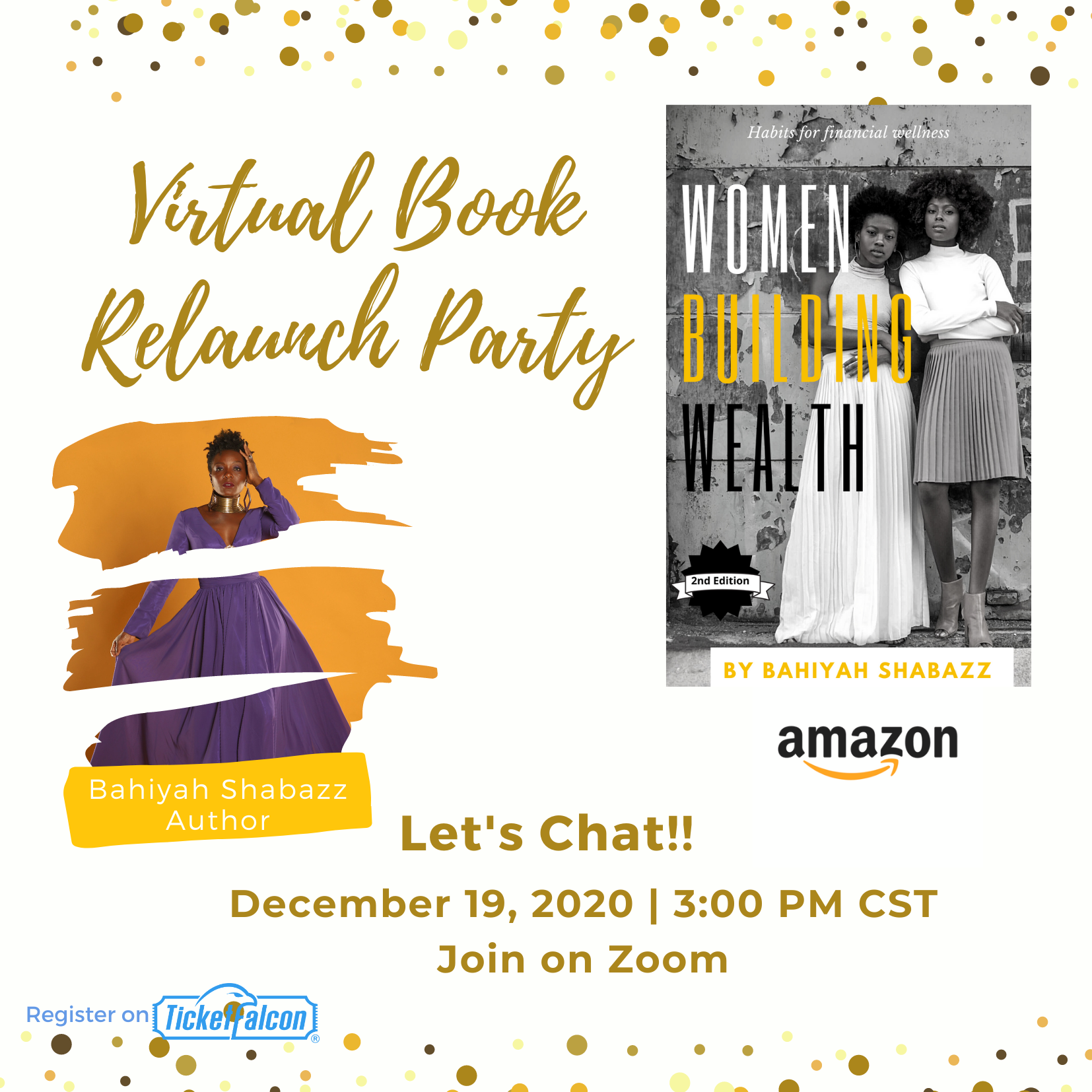 A Glimpse into Women Building Wealth
It is said that when you teach a woman, you teach a nation. Can you imagine the ability to accomplish your goals by applying positive and consistent habits in your personal life, business, and finances? To achieve goals is possible through wholeheartedly engaging in activities leading to happiness and success. Now, more than ever, women want to build wealth, stop financial abuse, eradicate debt, contribute to retirement savings, and leave a legacy. The author shares personal stories from self and others about decisions that caused them to live in financial turmoil and how a change in habits allowed financial growth.
Who is Bahiyah Shabazz?
It is Bahiyah Shabazz! I help people invest in their financial future. I also work with entrepreneurs and small businesses to break down numbers to rebuild for profit.
I use my time wisely as a business owner for Brown Girls Do Invest and a Global Financial Consultant for Decimalytics. I have been told that I talk a lot which is one of the reasons why I was excited to become a TEDx speaker. I also authored multiple personal finance books and educate as an Adjunct Faculty at Ivy Tech College teaching Economics.
As if I do not have anything else to do I am currently a Doctoral Candidate for the Doctor of Business Administration specializing in Finance at Walden University.
Often, I appear as a guest on the nation's television and radio networks. I emerged as a financial expert on Business Insider, TEDxGary, Black Enterprise, Urban Business Roundtable, Equifax Finance, Debt.com, Rolling Out, and a variety of other media outlets.