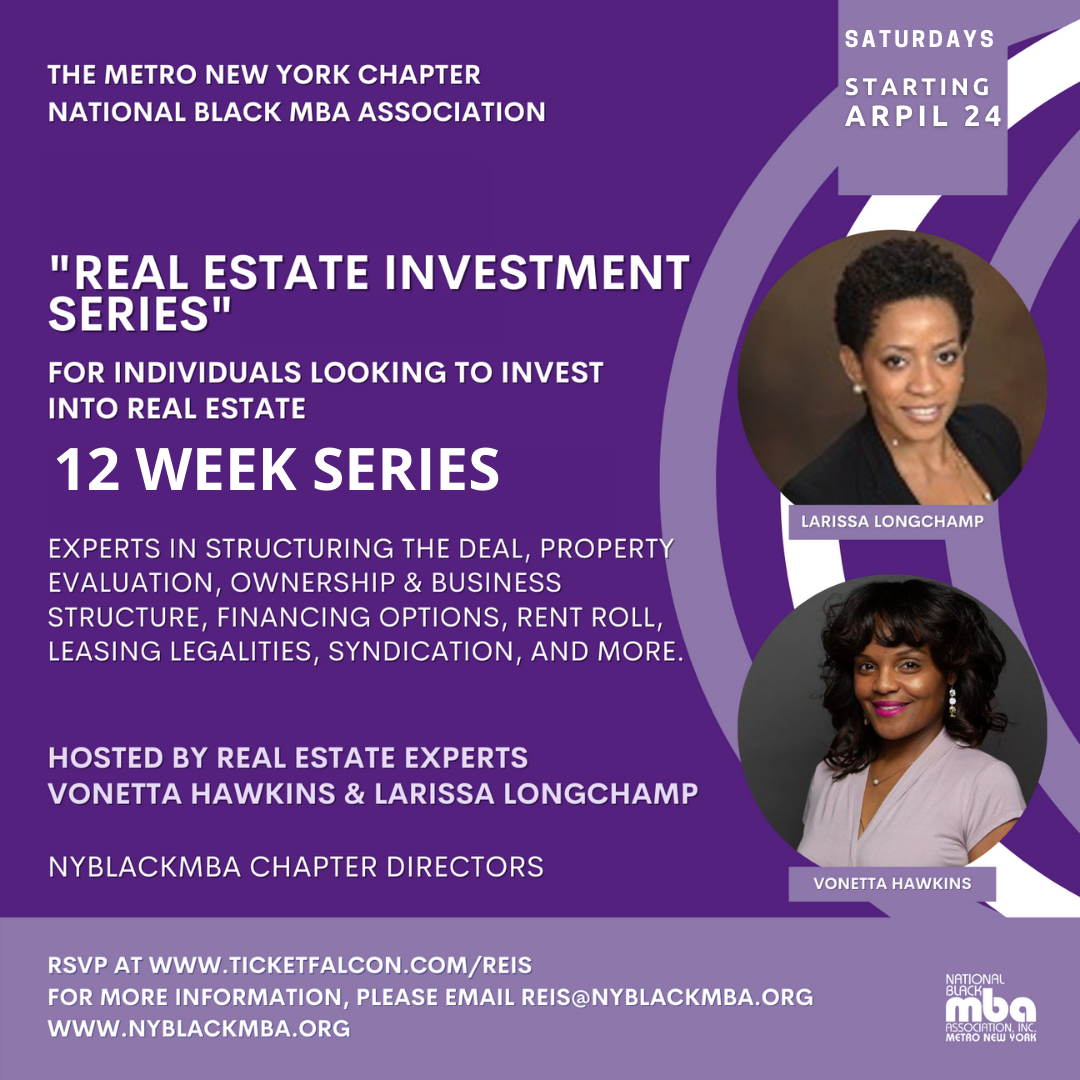 "Real Estate Investment Series"
Saturdays , Starting April 24 – 10 -11:30AM EST – 12 Week Schedule
For Individuals looking to Invest into Real Estate
Real Estate Investment Series featuring Industry Experts in Structuring the Deal, Property Evaluation, Ownership & Business Structure, Financing Options, Rent Roll, Leasing Legalities, Syndication, Property Site Visits & more.
Sessions from 10-11AM EST
Breakout Networking & Instructor Connect 11-11:30AM EST
Hosted by Vonetta Hawkins & Larissa Longchamp, NYBLACKMBA Chapter Directors
featuring Real Estate Experts every week
Week 1: The Offer: Structuring the Deal
Week 2: The Property
Week 3: Ownership Structure
Week 4: The Money Part 1: Hard Money Lenders
Week 5: The Money Part 2: Soft Money Lenders
Week 6: The Money Part 3: Traditional Lenders
Week 7: The Numbers: Rent Roll
Week 8: Leases and Legalities
Week 9: Syndication: Forming an Investment Group
Week 10: Where to Buy
Week 11: Property Renovations
Week 12: Property Tour
RSVP at www.www.ticketfalcon.comm/REIS
This is non-refundable series!
The content given and/or discussed in Real Estate Investment Series by Metro New York Chapter of the National Black MBA Association, speakers, and instructors is used for general informational purposes only. All information given in the series is provided in good faith, however we make no guaranty of any kind, express, or implied regarding results. Results vary!
For more information, please email [email protected]