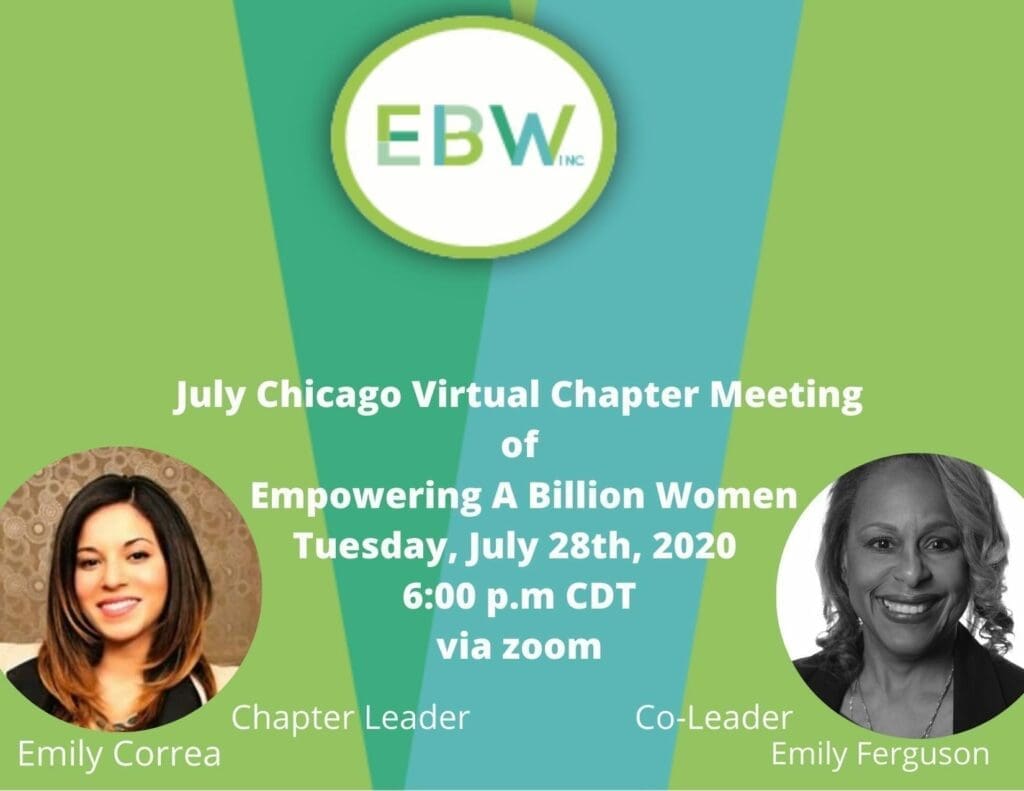 The Chicago Chapter of  Empowering a Billion Women (EBW) Invites you to an Empowering and Inspiration Virtual Experience.
Join women across the Chicagoland area and around the world as we come together connecting, learning, and sharing actionable information to Grow and Scale our business.
Tuesday, July 28, 2020
6:00 pm CDT
ABOUT EBW2020
OUR MISSION
EBW's mission is to create a globally sustainable future through the empowerment of women & diverse leaders. We use our trusted relationships, experiences, and data to bridge female leaders and entrepreneurs with the resources, support, and business opportunities they need to scale their business and success trajectory.
OUR VISION
Our vision is to help 'One Million Women Generate $1 Million Dollars' in annual sales.
EBW CHAPTERS AND SCHOOLS
We are proud to serve women with the following offerings:
EBW Free Business School is available to all women regardless of location. Women everywhere now have access to over 100+ trainings to help them grow and scale their businesses.
EBW Virtual Chapter Members have access to live monthly online chapter meetings. Chapters create highly curated networks of equally motivated individuals, so female entrepreneurs no longer feel alone in their business journey. Members will receive:

Ongoing training from an expert with business tips, strategies, and solutions around business growth.
Help in identifying a mentor and business advisor.
Support in building relationships and locating accountability partners.
WE ARE COMMITTED TO YOUR SUCCESS!!
IF YOU ARE READY TO LEAD INTO YOUR MOST AMAZING FUTURE, TAKE THE LEAP
JOIN EBW TODAY!! BECOME PART OF THE GLOBAL NETWORK OF WOMEN
CHANGING THE STATUS QUO!!!