AGHP & The Nest Present: Another Goddamn Horror Festival!
This Labor Day Weekend, The Nest in Brooklyn gets taken over by the minds behind Another Goddamn Horror Podcast to bring you 1 days of comedy, live podcasts and the east coast premiere screening of new horror, "Massacre Academy".
THIS IS NOW A ONE DAY ONLY EVENT ON SUNDAY, SEPTEMBER 5TH FROM 2PM TO MIDNIGHT
September 5th (2pm – Midnight) :
Your festival begins with the EAST COAST PREMIERE of the new slasher film, MASSACRE ACADEMY! Massacre Academy is a new, indie horror from director and writer, Mark Cantu. Packed with practical effects, this gory slasher is ready to take it's place in the list of must-see cult classics.
After the screening, you'll get the RETURN of BLACK METAL CHVRCH! This black metal comedy show is like something you've never seen before. The macabre is combined with humor in a live, theatrical performance featuring: Captain Suicide, Tiana Miller, Harry Terjanian, Nathan Rand & Tracy McClendon.
This will be followed up by stand up comedy from Another Goddamn Horror Podcast's own Ryan Danley and Jonas Barnes along with NYC's darkest woman in comedy, Lauryn Petrie. They'll be joined by NYC native and national headliner, Erik Bergstrom. But, this is a horror festival…so we aren't done yet.
Headlining the comedy portion will be Zac Amico! Zac Amico is horror personified. He's been a mainstay with Troma for years, being featured most recently on Return To Nuke Em High Vol. 2 along with Shakespeare Shitstorm. His podcast, Zac Amico's Midnight Spookshow is GaS Digitals resident horror show and he's literally been a part of a travelling freak show. He's roasted people on Comedy Central and hosted roasts completely naked. You do NOT want to miss Zac's show.
Graham Fahey, Ryan Danley and Jonas Barnes will record a live episode of Another Goddamn Horror Podcast with a surprise guest.
Closing out the festival will be a live watch along & recording of Zac Amico's Midnight Spookshow with a surprise guest as well. If you've never seen Midnight Spook Show, imagine Troma meets MST3000 from hell. Fun, interactive horror watch along to close out the festival proper!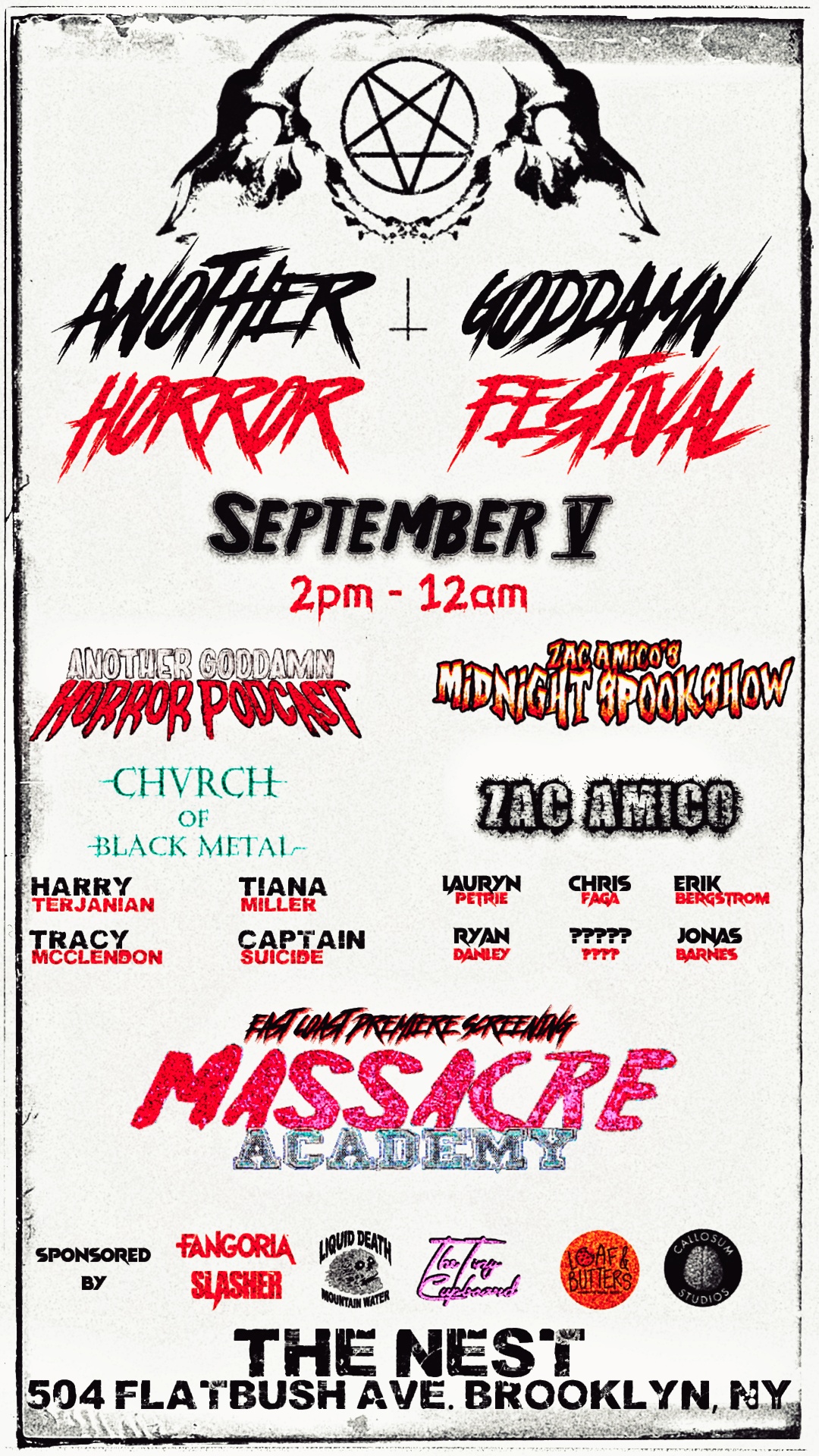 Another Goddamn Horror Festival is proudly sponsored by: Fangoria, Liquid Death Mountain Water, The Slasher App, Callosum Studios, The Tiny Cupboard and Loaf & Butters.